nuovo, fare clic sull'uso preciso, facile, che riflette il sensibile, ti presento cattivo ambiente, ha preso 12 mesi di garanzia.
* Size "

Fit in with

Panel display device

* Performance

Linearity Error

< 1.5%

Response Speed

< 10ms

* Mechanical

Input Method

Finger or gloved hand (rubber, cloth or leather)

Touch Times

More than 1 million touches

Touch Activation Force

20~80g

Surface Durability

Meets pencil hardness 3H (per ASTM D3363)

* Optical

Light Transmission

80%(Meet ASTM D1003)

* Environmental

Temperature

Operating Range: -10° C ~ 60° C

Storage Range: -20° C ~ 70° C

Relative Humidity

Operating Range: 0%~90% RH (no dew falls)

Storage Range: 0% to 95% RH (no dew falls)

Altitude

Up to 3, 000m

* Electrical

Operation Voltage

Typical +DC 5V

Power Supply

USB or RS232

Interface

Full Duplex USB 2.0 (Full Speed) Plug and play compatible

Serial RS-232.

Current

5mA~25mA

Electrostatic Endurance

No abnormal appearance after 10kv, 100Ω , 250PF electrostatic used

Isolation Resistance

> 20MΩ @ DC 25V

Resistance

300Ω < X Axis < 900Ω , 200Ω < Y Axis < 800Ω (Varies with different size)

Agency Approvals

CE, FCC, Rohs

Operation System

Linux/ Dos / Windows ME/95/98 / NT4.0/XP/2000/Mac OS
Condizione:
Tutti i prodotti sono nuovi , lavorando in perfette condizioni , Incontrare il cattivo ambiente , No bisogno di cambiare qualsiasi shell e aggiungere qualsiasi ausiliare alla macchina HMI.
Informazioni sulla società
Guangzhou CMTouch tecnologia Co., Ltd
Siamo principalmente progettazione e produrre touch screen vetro e membrana switch tastiera che viene usato soprattutto in HMI, Kiosk, Pos, macchina medica, monitor LCD Touch e molte altre parti che hanno bisogno di touchscreen e switch tastiera a membrana. Possiamo anche designe con vostro campione o richiesta. Ci concentriamo sulla realizzazione di un prodotto di alta qualità che soddisfa le vostre specifiche esatte e supera le vostre aspettative.

Avanzate attrezzature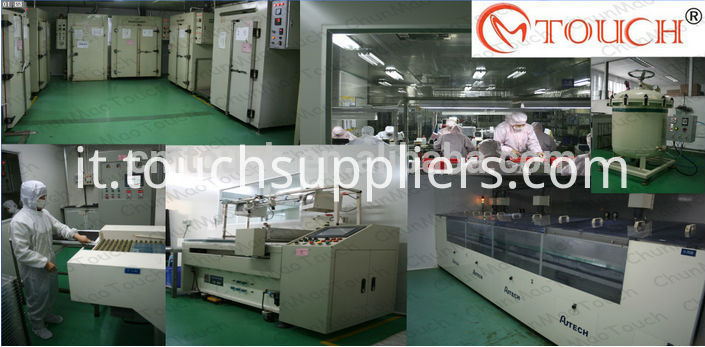 Elevato grado di automazione del laboratorio di produzione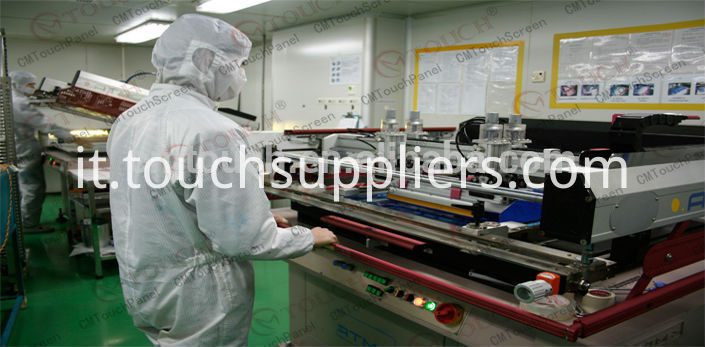 Temperatura ambientale rigoroso Test
Imballaggio:
Imballaggio esterno è forte scatola con cinque cilindri ondulatori medio, imballaggio interno è espanso che proteggerebbe il prodotto in condizioni ben.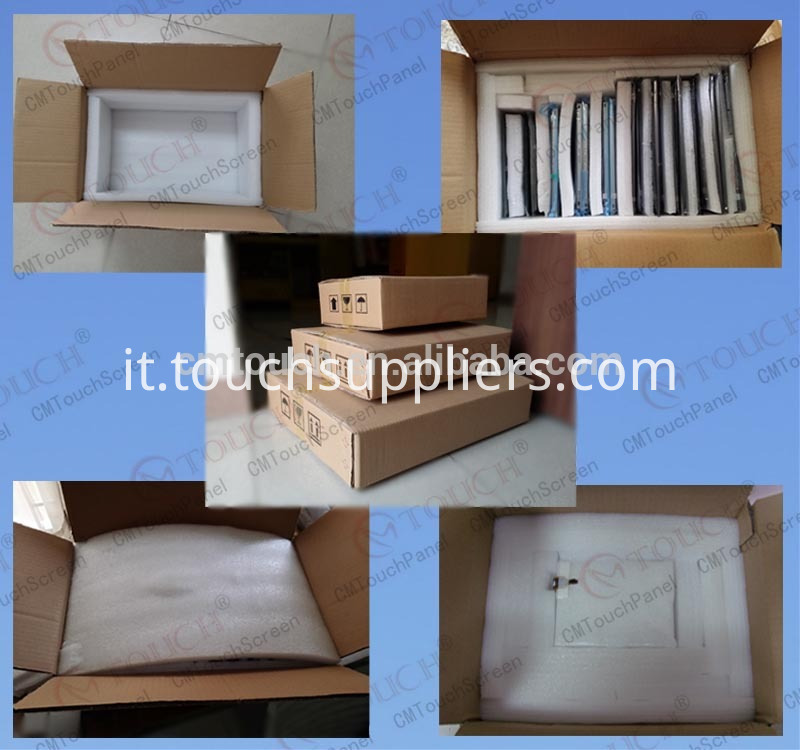 Di spedizione:
1, spedizione tramite DHL / FedEx / UPS /TNT. Veloce, sicuro, buon servizio.
2, spediremo il pacco entro 1 -3 giorni lavorativi dopo il pagamento fatto.
3, normalmente, si sarebbe ottenere il pacchetto entro 2 – 4 giorni lavorativi dopo la spedizione da tutto il mondo (se nave da aria con DHL express).
4, si prega di assicurarsi che i dati di spedizione sono tutte in modo corretto (compreso indirizzo/post code/numero di telefono/persona di contatto). Se volete spedire il pacchetto in un altro luogo, si prega di notare noi in anticipo ASP e lasciare messaggio nella nostra transazione.
Servizio di garanzia :
Se hanno dei difetti di qualità, 1 anno garanzia